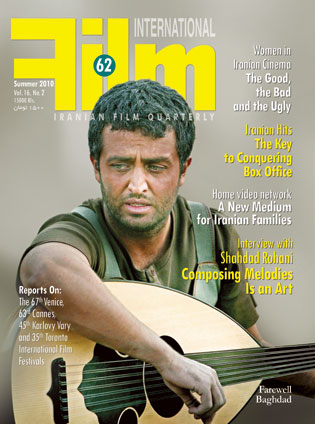 The quality and seriousness of film criticism in Iran has been debased by a new (and naturally younger) generation of movie reviewers who extend their 300-word pieces to the 1500-word page fillers, packed with third rate commentaries and second hand observations based on disastrous Farsi-subtitled movies of the mainstream cinema.

The most recent example is the last issue of Iranian's most famous film journal, Film, which was accompanied with 16 pages about "The Public Enemies", though the main auteur had presumed that it's not a good film after all.

Now this kind of upstart critics could be found everywhere. Names repeat disgustingly. At the same time they are in magazines, newspapers, radio, TV and on the web. They despise official media for its key role in recent tragedies but it is the same media they have worked with ever since their start up as a critic. Even if they are young and the children of digital age, they use web only as an advertising tool, and not a serious place to write with more freedom about the movies. Maybe it's because nobody pays for internet writing, and money – like every where else – is the main issue here.


More than ever instead of watching films (that supposed to be a critic's criterion) they try to be revolutionary with their gibberish language. Even in their mockery, they are not original. As a matter of fact their job is a reproduction of malformed translations of some peculiar American review writers. These illiterate people are trying to show that Pauline Kael was a thug and being like her requires a churlish attitude in all possible ways.

History of Iranian's film criticism is consisted of sparse number of people, startin with Dr. Amir-Houshang Kavousi in early 1950s (still working and living in Tehran -- he's almost 90 years old) and ending symbolically when Kambiz Kaheh gave up writing at the winter of 2003.

There was never a coherent movement or a society of film critics in Iran but those individuals who started to write with originality and were well aware of the world cinema caused a new wave of academic approaches to film criticism and new ways of appreciating classical cinema. After a decade of unsuccessful efforts, the movement was subsided.

These somewhat inventive years was desisted by retreating of individuals who were responsible for the whole thing. Iraj Karimi altered to filmmaking (and reportedly an unsuccessful career, so far); Hassan Hosseini started living in a professional seclusion, surrounded by his small group of fan and followers; the laconic Behzad Rahimian went for a big publishing project (a 6-volume film guide of the world cinema) and withdrew from journalism; Hamid-Reza Sadr at first abided with the new situation, but finally went for his other passion, soccer, and casually wrote again; Majid Islami (one of the first critics with a full-force academic approach and a translator of David Bordwell works) preferred to work for semi intellectual magazines and after his main writing spot – a magazine called Haft (seven) – was banned by the authorities, he vanished from the journalism scene; and Kambiz Kaheh, after some problems with authorities, chose (or was forced – that's an enigma to me) to leave writing and never wrote a line, at least under his own name. Since then he is living in ambiguity and that's the last scene from the story of modern film criticism in Iran.


Now ground is totally vacuous for the new gang critics to take a ride. Despite the fact that so far many people have been accused of serving western culture, the new critics – that I presume are officially accepted -- write with such praise about American mainstream cinema, unheard in decades. While their obssesion with new Hollywood clearly tends to fetishism (it's evident in most of their writings, especially in Public Enemies variety of reviews), the critics I mentioned above had to adopt an ambiguous language due to so many red lines. And it gets much funnier when we notice incredible growth of contemporary Hollywood films (most of the time even before DVD release – needless to say, without permission) shown on Iran's single TV network that belongs to the government.

I think the situation is as bad as everywhere else, but since Iran is the land of contradictions (for instance, e.g. second biggest number of bloggers in the world and also one of the worst internet censorship systems), things become more complicated here. More funny events are on the way with a new poll for 10 films of a life, conducted by Film magazine. Wait and see.