Hitchcock/Truffaut in Farsi: 4th edition (out of six or seven)
For the previous posts [
here
and
here
] about translating Anglo-American or French film culture in Iran, I mostly focused on journals. Now I would elaborate more on the unauthorized translation of the major and minor film books.
The rules of the game are more or less similar to those of journals. The names who make it to the translations are a combination of current trends (Slavoj Žižek), cult figures (Jean-Luc Godard) and the essential texts (David Bordwell/Kristin Thompson).
The translators are whether the per-revolutionary cinephiles, now trying to retain the memories of a cinephilic haven via written text, or a new generation of one-off, clandestine translators who are often young university graduates, showing their passion for a filmmaker or writer by translating them. The latter group always starts on its own, without having a contract or handshake with the publisher, and of course with no guarantee on publishing the finished work or passing the labyrinth of censorship.
Is there any financial motivation behind this? Based on some statistics, personal observations and conversations with those who do it, I would say no, at least, for the translator who is always the sole driving force behind this cultural reproduction. The publishing industry in any format, whether book or journal, has been one of the key victims of the post-sanction Iran, if not mentioning the ruined economy of Ahmadinejad's Iran. During the eight year of Ahmadinejad's presidency, the systematic rape of the culture was facilitated by eliminating subsidies to the cultural products. One of the first outcomes was a sudden increase in the price of paper. This affected the publishing industry to the extent that the number of book readers went down the lowest in recent history.
To make sure that the publishers are completely defeated, censor was tightened to its most suffocating in recent memory. "We specialize in art and literature," says Farkhondeh Hajizadeh, an Iranian writer and publisher, "that's exactly the area that's problematic for officials, not physics and chemistry. Our books have been either banned, or they have faced censorship after a year, or they remain suspended."
[1]
In addition to that, just recently, the licence of some of the publishers who had expertise in publishing film books, like Nashr-e Cheshmeh, was suspended or revoked. This new decision by censorship was similar to what happened to Jafar Panahi: it's better to dry the fountain rather than monitoring and censoring every drop of water coming out of it.
Due to mentioned economical and political factors, the circulation of books, from the standard three to five thousand copies dropped to 1000, and with the new inflation prices, many readers found it difficult to purchase new titles. When the individuals couldn't afford books, that's like some crippling stroke, because for instance the public libraries, run by government, are hardly interested in art books and most of the titles added to their catalog is limited to religion or science. Even the special student discount for non-Farsi books (available in the annual Tehran Book Fair) doesn't include art books anymore (where during Khatami's administration many great film books in their original language were presented), and some notable publishers have been banned from presenting their catalog in the aforementioned book fair.

Under these circumstances, publishers prefer to work on salable projects (educational texts, popular books, dime novels) and if they have any personal attachment to a particular subject, like cinema, they might take the risk to send out a few titles every year. Even then, it doesn't mean that their titles would be passed by the censor, which is the most distinct obstacle in the way of reproducing film culture.

Perhaps the biggest single area of confusion regarding film culture in Iran is the question of what is allowed and what is not allowed by the censorship. In a nutshell, theatrical screening of foreign films is more or less banned (exceptions: Fajr Film Festival in February and a small number of carefully selected films during the year which contain no sex or violence. But even this handpicked number of films are not free from being cut from some frames to some scenes). The National TV - the only kind of TV in the country - started showing foreign films of all kind since ten years ago (one of so many contradictions of Iran), all of them severely cut and mutilated. But speaking about films, which includes the film literature, is free to some extent, and that extent, of course, never reaches the sexual or political domains related to cinema. Still, bootleg copies of films of all kind (art cinema, Hollywood mainstream, festival circuit and the banned Iranian films) are systematically in circulation and the underground market supports its costumers with home-made subtitled films. I was amazed to see a locksmith in Tehran's Enghelab Avenue [Revolution] selling the bootlegged Criterion editions of Pasolini and Bunuel. On the same street's sidewalks, all the latest Hollywood films are offered before the Police invades the string of sellers which of course happens very often. The Enghelab Avenue is also the center of bookshops and publishers.

Below are some of the titles you may see in the bookshelves of the Enghelab in Tehran:
Film Art: An Introduction, David Bordwell, Kristin Thompson
A History of Narrative Film, David A. Cook
What Is Cinema?, Andre Bazin
The Pervert's Guide to Cinema, Slavoj Žižek
Semiotics and the Analysis of Film, Jean Mitry
Fritz Lang in America, Peter Bogdanovich
Miklós Jancsó, Graham Petrie
Key Concepts in Cinema Studies, Susan Hayward
Film As Film, V.F. Perkins
Film Appreciation, Allan Casebier
Always Maestro: Hitchcock, selected writings by almost every Hitchcock scholar in French and English. Huge book.
Les grands thèmes du cinéma Américain, Michel Cieutat
Hawks on Hawks, Joseph McBride
Selected Writings, Robin Wood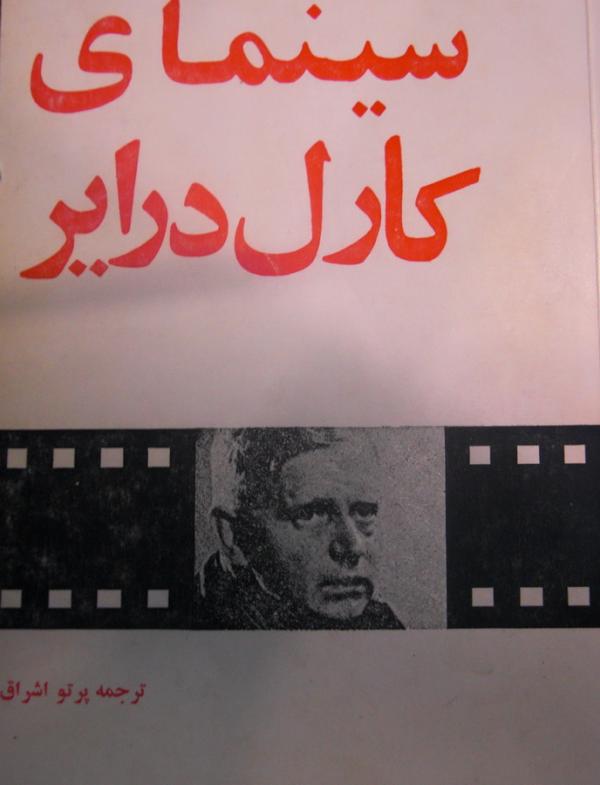 The cinema of Carl Dreyer, Tom Milne
Frankly My Dear, Molly Haskell
Scorsese, Roger Ebert
Selected Film Criticism, Jonathan Rosenbaum
The Films of Akira Kurosawa, Donald Richie
A Personal Journey With Martin Scorsese Through American Movies, Martin Scorsese and Michael Henry Wilson
To be continued.